Ireland has always been on my bucket list. I've been in love with the culture, music, and history since I was a small girl. Mostly because my family history goes back three generations to this small, green island. I have Irish in my blood (and skin- hello pale) and I am forever in awe of the country.
I flew into Dublin on Friday night. It was my first time ever experiencing a hostel, and I have to say I was a little bit daunted with sharing a small space with ten other girls. (That's the Princess in me.) The first night was a bit hard because I was so tired but so tightly wound that I couldn't sleep, but after that (and exhausting myself during the day) sleeping in a room full of strangers was easy.
Our first day of adventure was a bus tour to the Cliffs of Moher. We had to catch our bus at 6:40am in the morning which was rough after only a few hours of sleep, but once we were on our way I was so excited. As we drove, our bus driver would talk about the different landscapes and history of Ireland. I learned so much about potatoes. So much. But Ireland is very cool in that it is still a relatively newly independent country. Because of this, Ireland feels a bit out of time. We traveled across the back roads and through farmland, and it seems to me that you could go back 100 years and it wouldn't look any different.
It is true what they say though, Ireland is the Emerald Island, with hundreds of different shades of green to color it, and lots of sheep. I thought I was a cow-in-fields kind of person, but Ireland has converted me. I like sheep. Baby sheep especially. Too cute. Honest.
Now... how to explain the Cliffs of Moher. Honestly, I don't know if I can. It's breathtaking for many reasons, one being you are up above birds and the other because the Atlantic wind is absolutely pounding you... or it could be I'm just terrified of heights and have trouble breathing...
I told my sisters it was the kind of place you can see God because the clouds were hanging down really low towards the earth and there was only sea, sky, and a heavenly drop. There is only a thin slate wall about ten feet, five in some cases, that separates you from the edge. Daredevils and Thrill-seekers were advised to walk them because the temptation to stand on the very edge is overwhelming.
But there is truth in the fact that a picture can tell a million words.
We also went to Burren National Park afterwards, which was just as breathtaking, if not more so. The really cool thing about Burren National Park is that is entirely made of limestone that stretches for miles and miles. It was referred to as the 'Mini-Cliff's of Moher' because they are just as steep a drop and you can see the entire Atlantic Coast by standing along them. That too was so beautiful. I stood there on top of the hill of limestone for a long time, just soaking in the cold wind and scene.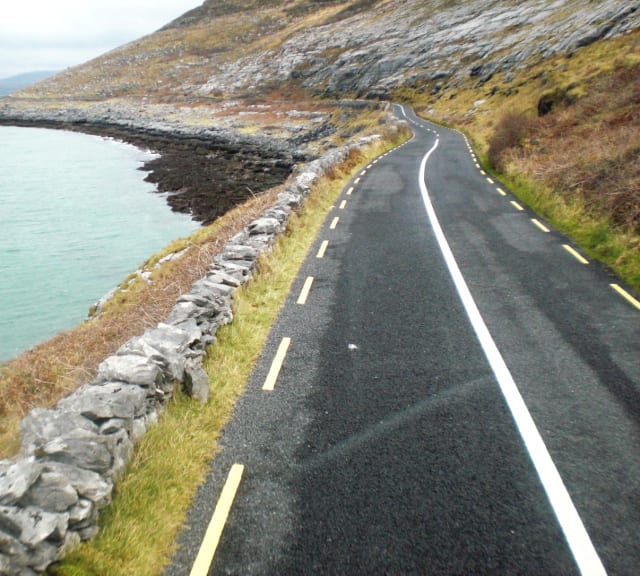 The Cliffs of Moher are one of the seven wonders of Ireland, and are a UNESCO site. There are tons of touring companies that leave from Dublin city center on day trips to the cliffs, and they are reasonably priced. Also check out Groupon, as sometimes they have discounted tours you can purchase. You can also get there by car, but the bus seems the best bang for your buck- and they give you the history of the countryside and other places you pass as you go.
I went in February and had no problem with visibility, however, I do have friends who traveled there during the early spring and been met by walls of fog and mist. There is always the chance the weather won't work in your favor if you go during off-season. It's just one of the risks you take. If you visit Ireland in the summer, it's best to plan and buy tickets for tours ahead of time, as they tend to sell out during tourism season.
Slàinte!