Every town in Spain has a saint (so far as I know) that they celebrate during a four-day festival, fiestas, every year. March 2nd to 6th was Calahorra's
Apologies for the delay, I was slayed by a creeping illness that devastated both myself and my roommate. Excessive alcohol intake and lack of sleep may have contributed to the weakening of our immune systems…
I will say this about expectations- they were mildly low. Calahorra is small, and most of what we do is small. But they really turned up and out in celebration of their Saint Emeterius, or San Emeterio. Overall there are three things the Spanish do to celebrate this day: 1) drink. 2) stay up all night. 3) wear the colors of their peña or the red scarfs. And to become like the Spanish all you have to do is take them up on those three things. Which I did.
The week was pieced out in small pamphlets that listed all the activities that would take place each day. And there were quite a few. Here there are groups called peñas, which I basically refer to as the secret societies of Calahorra. Six in total, they in short run the festival and activities. Each peña has a band that strolls the streets throughout the day (and evening…and morning) playing mariachi-style music and in general causing a dance party wherever they go. Each peña also has a courtyard or garage in which they gather throughout the year but open wide for the masses during fiestas. And at each of these places there is music, room for dancing, and a bar offering free pours of wine and beer. Yes, free. It's free.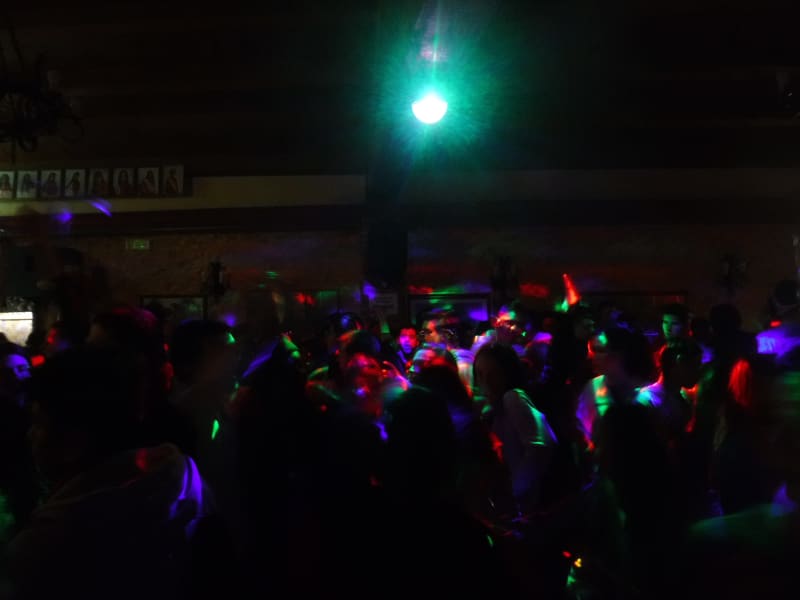 So It Begins
Thursday night started off with a giant parade from the center of town. Fireworks initiated the start of the fiestas and then all groups of peñas proceeded from the center with their bands to their respective places of party, followed by the already drinking masses. That's the other great thing- no rules about carrying alcohol and strolling the streets during fiestas (not that the police are all over that anyways but). It was… general chaos. I lost my group of friends, found another, lost them again, and somehow we all ended up at the same peña as the doors swung open.
Friday, Saturday, and Sunday all follow the same general pattern. Peñas hosted free food gatherings in different courtyards throughout the city during the day. The running of the bulls started at 5 each evening, and we attended two of them. It was mostly an annoying of the bulls then a running of them, but entertaining no less.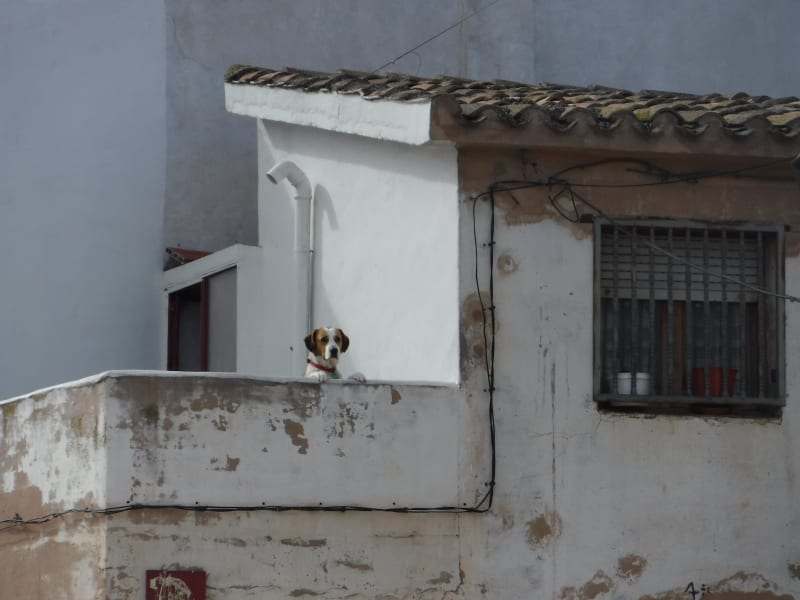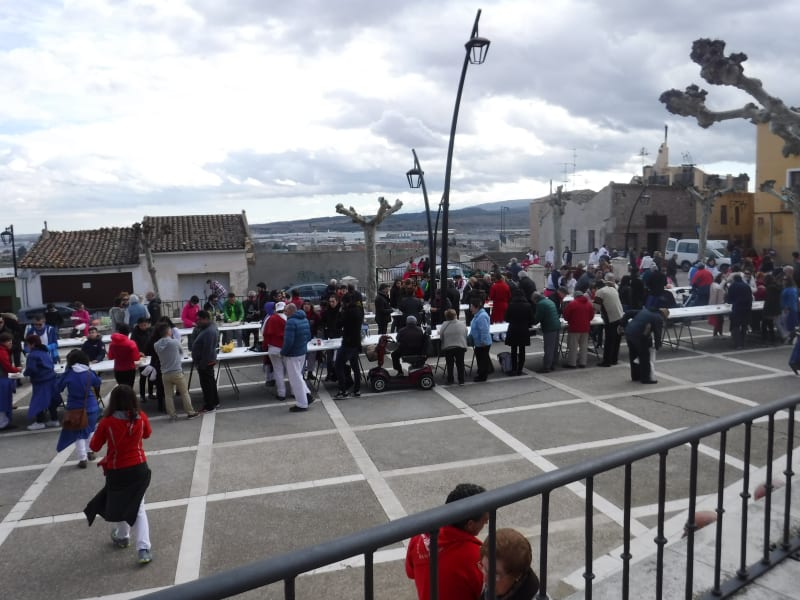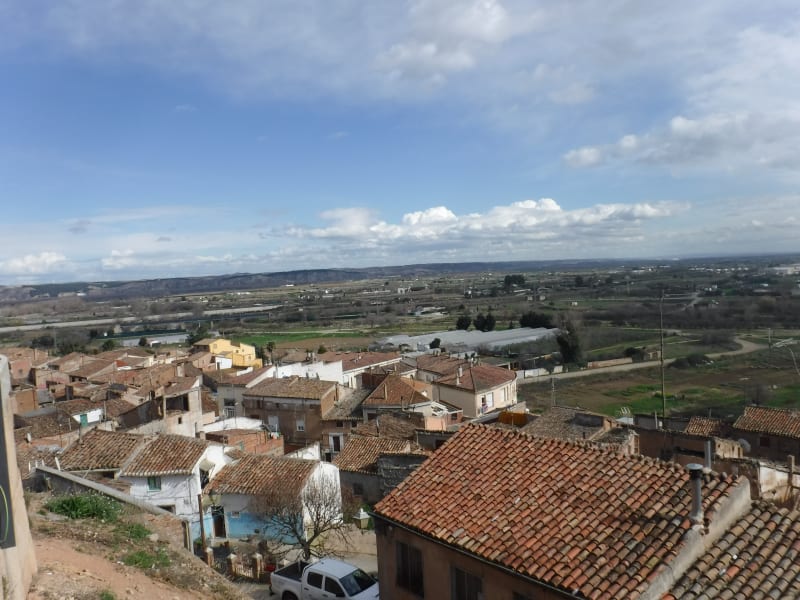 Every fifteen year old got to live out their dream and uttered the words, "Hold my drink and watch this" before leaping beyond the slates of wood and dashing to and from the bull along with thirty others. During the first one, the masses started screaming and running, and I started running with them even though I had no idea why we were running. Turns out half a bull got free through the wooden slates on the other side of the street. So no reason to fear in the first place, but a good way to make me burn calories for sure.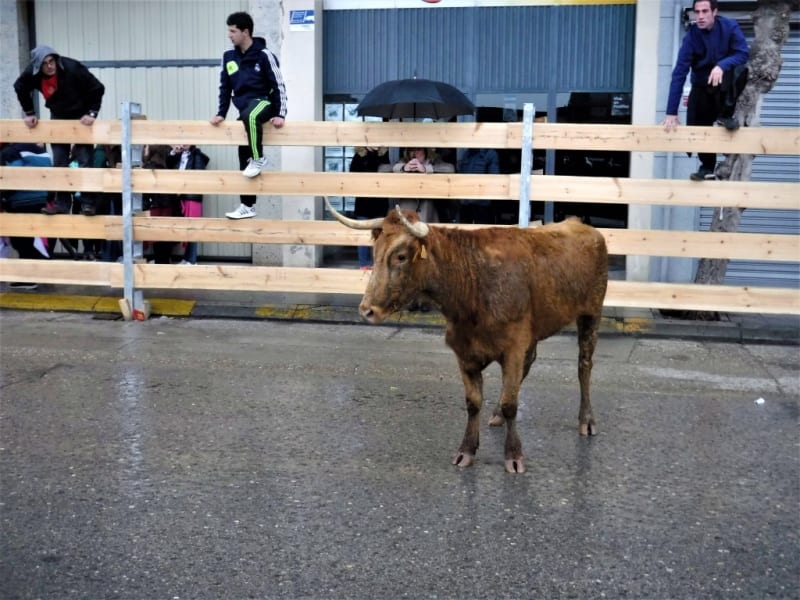 Our favorite Peña served a sweet dessert wine out of a borron which are essentially glass bota's. The idea is your lips don't touch the small spout and you can communally share wine without glasses or germs getting in the middle of things. During the fiestas most people also wear all white outfits with a red kerchief and red sash around the waist. My red kerchief doubled as a bib, and I did not wear white because the trust issues there are unreal. White shirt and red wine. Please.
Three nights we went strong, each night staying out later than the last, but that was because the energy was addictive. I don't know how they do it- others would start drinking at twelve and not stop till seven am the next morning. Our pacing was much slower than that, and I rarely made it out of bed before 12 all three days.
On Saturday, we followed the crowd into the bull ring to watch a demonstration with the bulls. They did a very cool display of flips and leaps over the bull as it charged them. It was very Spanish and also a cool piece of culture to experience. #thosebenchesaren'tcomfortable.
After the display, they invited audience members to jump in the ring and mess around with the bull. Again with the holding-the-beer-and-watching-this thing. And I'm sure many a man would have gotten a nice bruise had they not all been so nimble at leaping over walls. At the end, they let out a baby bull, and at this point the entire male audience flooded the ring. Let me tell you, that baby hit more people than the full-grown ones did.
Fiestas in Other Cities
Overall, a successful fiesta weekend, and very different from the San Mateo one that was celebrated in September in Logroño. I think it's the small town thing that makes the experience so different and unique to each city.
If you ever get a chance to attend a cities fiestas, do it! I never knew Calahorra secret societies. Now I'm determined to become a part of at least one of them…
Arnedo is celebrating their's this coming weekend, along with a real bullfight which I'm most likely going to pass on. (As in the bull dies.) There is something very sad about watching people taunt and frustrate a bull. The man always has the upper advantage- walls, flags, distractions, while the poor bull's are taunted into charging them, only to find they are no longer there. I can't imagine watching one be slowly killed.
And on that incredibly happy note, Happy Monday, and to all those seeing Beauty and the Beast in English this weekend, know that I envy you incredibly much.