*This post may contain affiliate links, which means I may receive a small commission, at no cost to you, if you make a purchase through a link.*
Welcome to the new The Making of Kate. Two things have happened since I last posted here. The first is that my website received a face-lift! The second is that I have left the country...again!
Ever since my return from Spain two years ago, I had been back and forth about what to do next. What job to work, where to live, how to spend the remainder of my 20's in a way that would fulfill me. I have found that once you do something outside of the ordinary, it's hard to not find it addictive. To be sure, the feeling that comes after you've put yourself out of your comfort zone is easily a feeling to get hooked to.
So surprise- I've moved to Medellin, Colombia for just over a month. It is my first time in South America, and back at the whole attempting to learn the Spanish language better.
I arrived yesterday after a rather long journey from Washington D.C. to Fort Lauderdale to, finally, Medellin. A total of 5.5 hours in the sky, but a journey that lasted about 16 hours due to an overnight layover in Florida. One of those fake confident things where you think it won't be a bother to spend the night in an airport because you've done it a handful of times... let me assure you, it doesn't get any more fun with age or practice. But, aside from weary eyes, the journey itself was without trouble (thank God).
Medellin
Flying in, the first thing you see are epic mountains. Mountains that I knew would be there, but had no idea would be so big. From the plane you can see the valley, but beyond that, jutting out of the clouds are the far bigger Andes mountains. Which was breathtaking to see. So if you ever do decide to fly to Medellin, ensure that you arrive on a flight during the day to witness the decent into the valley.
Customs and navigating the airport was a breeze, and once I arrived, I was bombarded by taxi drivers competing for a fare. Even after I had agreed to a taxi driver, they still tried to pilfer me. The resulting looks from the taxi driver were hilarious to witness. Per advice from a friend, the white taxis are the ones you want to take to the city, and you should agree on the cost of the ride before you go. 80 mil is considered a fair price.
The following 45-minute taxi ride from the airport to the city and Laureles where I am staying, is all downhill and curves as you descend into the valley. Riding down hill with us were lots of bicyclists and people on foot. According to the taxi driver, they bike up and down the mountain- it's a bit of a morning routine.
Friends in Fun Places
I am lucky enough to not be alone in this city. An old friend I played soccer with is currently staying here and was a big reason I decided to begin my journey in Medellin. If that wasn't enough, my AirBnB is exactly 7 steps across the road from where she is living-- which was also by chance. We come full circle in luck with the duo-arrival of both myself and another friend of her's from Washington D.C. Without knowing, we ended up on the same flight and arrived together. Now if that isn't the Universe at work...
First Impressions
I've never been to South America, so most of my comparisons come from my time in Spain. There are similarities, including the language, the red roofed tiled homes, the fashionably dressed women, and perhaps the dangers of crossing the road. I'm also reminded of smaller cities in Italy, and an overlapping California vibe with palm trees.
The city itself is a loud, bustling thing. My neighbors have already made their presence known. The houses are very open to the outside world via windows and iron wrought doors, which allows a breeze in to cool the apartment. Which is very, very necessary as there is not heating or air conditioning in the majority of the homes here. Because, let me tell you, it's hot here. The Land of Eternal Spring feels more like mid-summer to me come 1:00 pm in the afternoon. Add to the fact that shorts are not normally worn here, and I was dying. Blessedly, the evenings and mornings thus far (from my one day here) have been cool and refreshing.
I wrapped up the long day eating dinner with old and new friends across the street, Spanish, English, and French flowing across the table until salsa music was turned up and those who knew how began to dance (aka most definitely not me haha).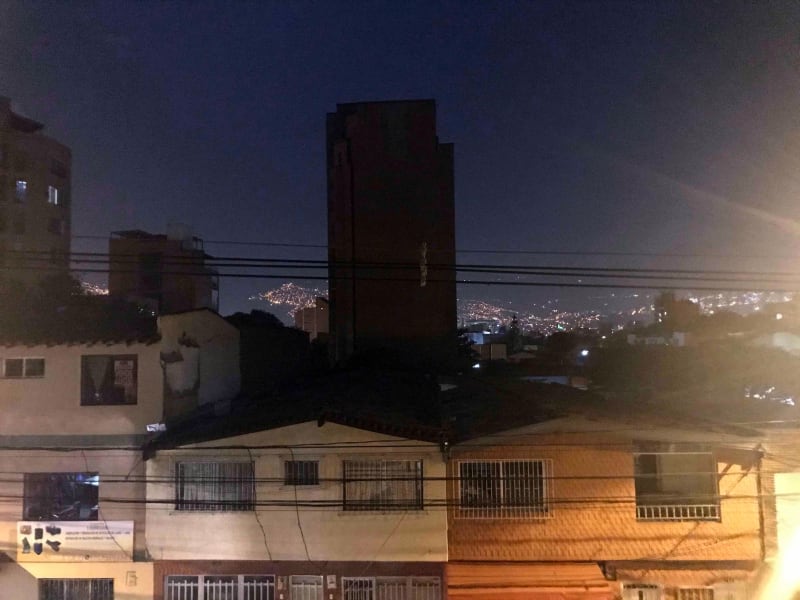 *This lovely view of the city lights spilling out to the mountains that this one building ruined.
Things I love to travel with:
Computer Stand - this changes the way I work during the day. It's helped my posture and is easy to fold up and travel with!