When I first mentioned Portugal, my roommate gave me plenty of recommendations. He had just gone a month earlier and was one of the reasons my interest had sparked.
I knew I wanted to do Lisbon, and had debated about including Porto or the south on my itinerary. But the truth was, planning so much in a short amount of time can be exhausting. Making trains and destinations match real life, and not to mention the expenses. I decided to keep my journey concentrated in and around Lisbon.
What's in and around Lisbon, you ask? Quite a lot. Lisbon itself is made up of many different districts, each with their own distinct character. You have Alfama, with the St. George Castle and amazing views from the top of one of the many hills. The streets are narrow and old, the shops busy and opened to the chaos of the streets. And of course, tourists bustling about as the sun starts it's decent into the water.
My hostel hosted an Almafa and Fado music night. This included visiting the old parts of the city at night. We drank a shot of ginjinha, a cherry liquor served cold that is delicious. We also had a hazelnut liquor with a little lemon juice on top. It's the little things. At the end of the night, our guide dragged us through narrow streets and into a small bar where we ordered beers and sat on wooden benches to listen to the Fado music.
Fado Music
Fado music is beautiful. Two men play instruments, a guitar and viola, and members of the bar take turns singing two songs as the night goes on. The lights go dim and the voices cease. Time stops. The voices sing out, deep baritones in a language that is enchanting in its passions. The songs are often laments or odes to the past. They capture something of the spirit of Irish folk music. An attempt to understand feelings of the heart and a yearning for the shores of your home. I connected despite the language barrier.
Different Districts to Visit
Bairro Alto contains much of the shopping, eating, and nightlife. I met my free walking tour here at the center in Praca de Camoes. There is also an amazing viewing point up the street and around the corner that allows you to see the entire spread of the city and water beyond. This is a fun place to shop, and enjoy a pastel de Nata (cheap, delicious custard with a flaky crust. I had a total of 12 by the journey's end. I regret nothing.)
Baixa is the main shopping walk that leads down through the famous arch, into an open plaza where there are colorful buildings, restaurants, tourism information, main tram stops, and water! My hostel was directly up the street from this little gem, and I stopped mid-step as I rounded the corner upon my arrival. It's an amazing view.
Belem is a short tram ride away from the city and hosts views, the Mosteiro dos Jerónimos, a museum, and nice walk along the water. There is a giant monument along the shore that depicts the age of exploration, paying tribute to Vasco da Gama who led the first fleet of ships around Africa to India, starting a trade route that would go on to redefine Europe. I walked along the river for a long time, soaking in the sun, burning, and people-watching.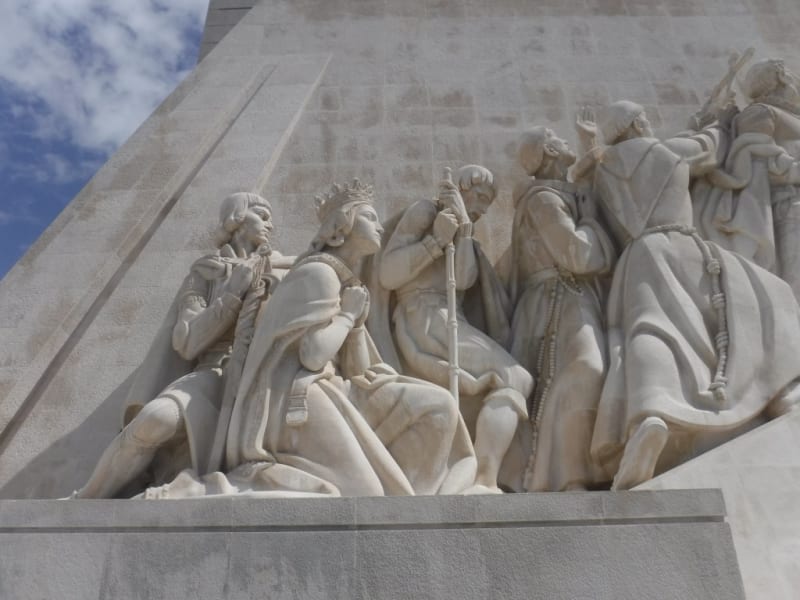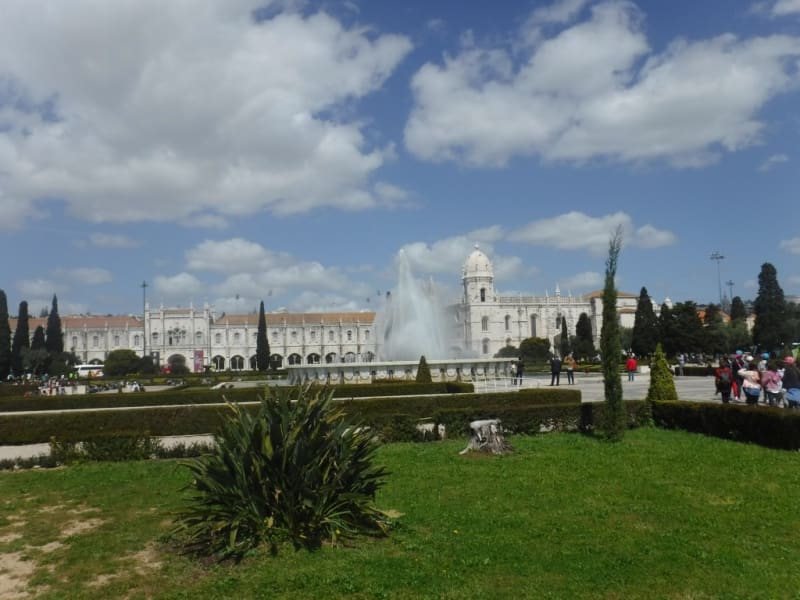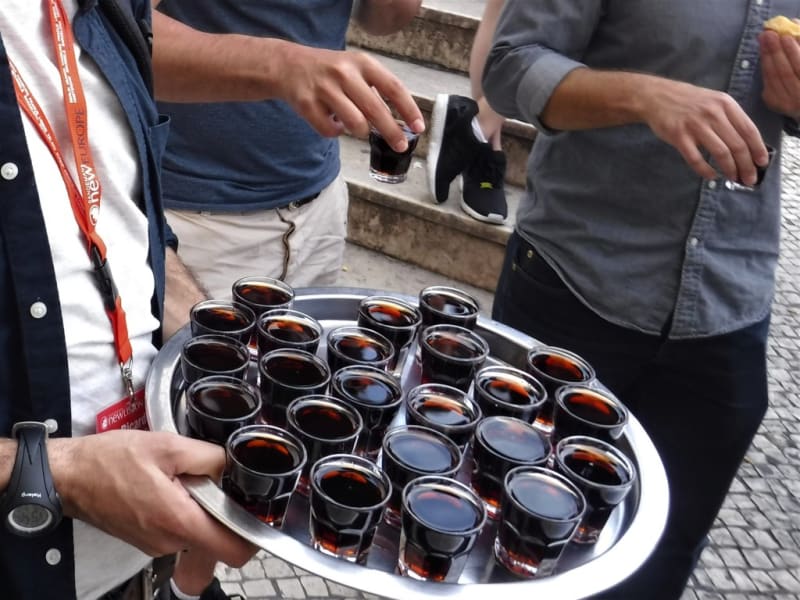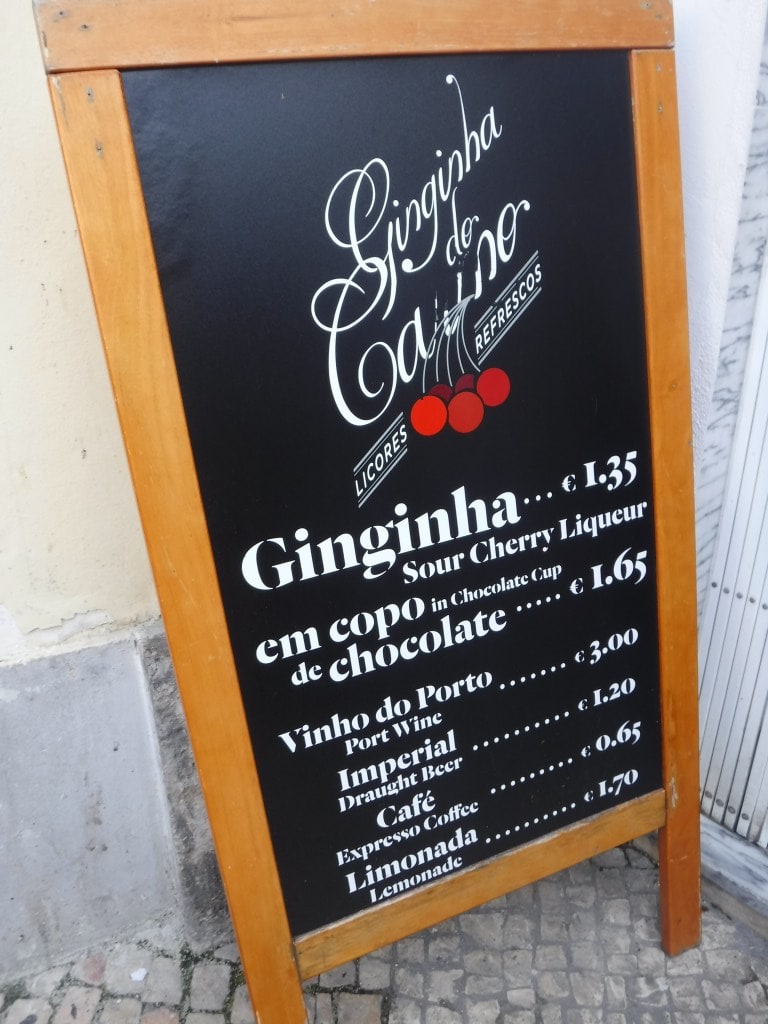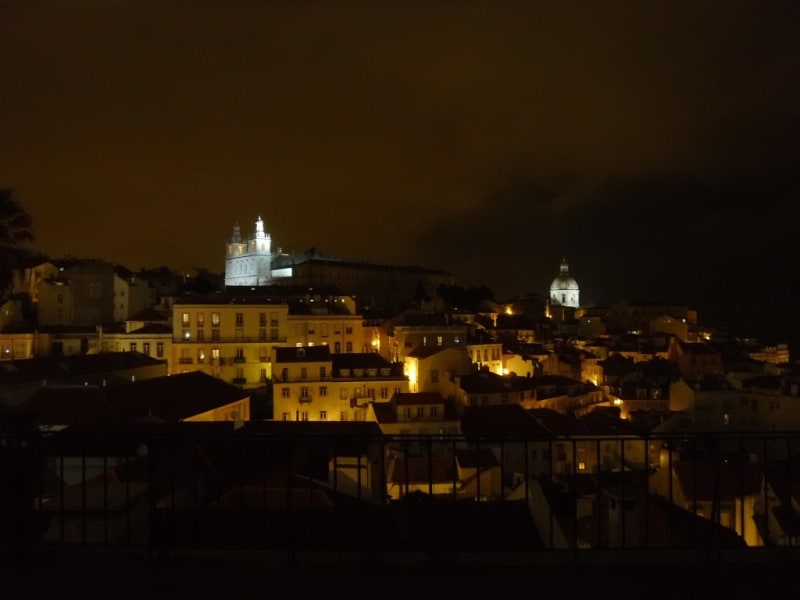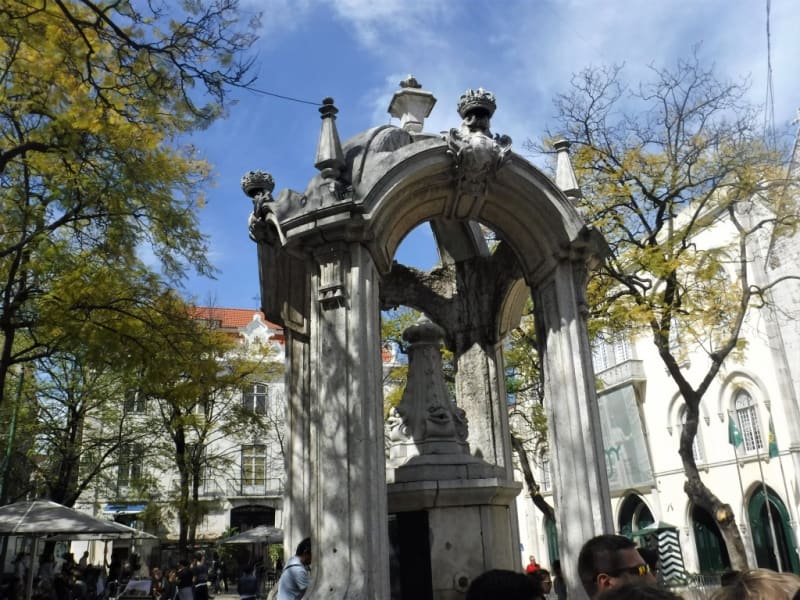 Which brings me to…Sintra
I knew it was on my list of places to visit. Everyone talks about it whenever you say you're going to Lisbon. A 45 minute train ride out of the city, it's easy to get there and so worth it. The city of palaces, they call it, and indeed, that is exactly what it is.
A place of myth and stories of nymphs and magical forests, Sintra was considered a place of great beauty, but was largely forgotten about during the 15th and 16th century. Sintra was 'rediscovered' in the 18th century and construction of the Pena Palace, the palace that Sintra is known for, began in the 19th century by King Ferdinand. Members of the court and other royalty went on to rebuild and/or construct their own mansions and palaces so as to be close to royalty during the summer months.
There are nine palaces throughout the city, which is full of hills, wandering streets, ancient forests, and secret artisan touches around each corner. I went on a Saturday, which attracted large crowds. But this didn't seem to matter. The grounds and palaces are all huge and spread out, making their exploration time-consuming and easy to get away from the main spur of tourists.
The pictures honestly don't do it justice. The view from the palace walls of Pena are breath-taking.
Here's what my day looked like for those planning their own trip. Be prepared to do a lot of walking, and most of it uphill. I found a fellow American studying abroad in Madrid who accompanied me, and it was great fun.
9:30 am train. Get there early. It's going to be crowded if you're around during tourist season. Which apparently starts in April.
11 am arrival. Made our way Quinta da Regaleira. It's about a twelve-minute walk from the station and worth it! Beautiful, less crowded, and cheaper. I recommend doing it first to let the tourists get their morning fill of Pena. The entire grounds and palace cost 6 euro.
Wandered around for the better part of the afternoon. We had brought a picnic lunch, so we sat out in the gardens and enjoyed the view.
We walked back to the main area and caught the bus. So let me tell you. They give you this little like oh hey yah, you can walk up to Pena. It's a great hike and it's gorgeous. But let me assure you right now- you do not want to walk. 100% do not do it. The bus is 5.50 euro round trip and worth every penny. The road is narrow and at a pretty much direct incline. And even after you get to the stop at the top, you still have to walk about ten minutes uphill to reach the actual palace. My thighs have never looked better.
We went with a grounds ticket instead of paying to go inside the palace. They were doing work on the inside anyways, but mostly it was to cut back on costs. They charge a pretty penny. Just the gardens were 7 euro, and you're essentially paying for the view (though it's worth it. Very worth it.) The grounds would also take you an entire day if you tried to get through them all. They also offer deals if you want to see the Moorish castle in the same trip. However little or much you spend, you will not leave feeling disappointed. (Unless it's raining. Then, I mean, I'm pretty sure your view would be marred…)
Go to Sintra. Enjoy the small town. Eat the pastries- there are some really good traditional ones called Travesseiros (filled with cheese) and Queijadas (a sweet custard and crunchy crust. Had three of these. Again, no regrets.)
Travelers House
This now brings me to the last part that made my trip so amazing. The hostel I stayed at. Travelers House hostel, located on the center street of Lisbon, though despite being so central, I never was overwhelmed by the street noise.
I'm very picky when it comes to hostels. I'm picky when it comes to my sleep, and I had a little anxiety over sharing a co-ed dorm with 5 additional souls. These dorms for the win though; big, spacious, each come with their own keypad to enter, and lockers are underneath the beds. The bathrooms are nice, the view from the window amazing.
Each night the hostel hosts a different cultural experience. I attended chorizo night, enjoying tons of different kinds of sausages from Portugal and Portuguese wine and cheese. Almafa and Fado music night, enjoying a night tour around the city, different kinds of special liquors, and traditional music. Others that I didn't attend included a bar crawl and a wine tasting night (didn't happen while I saw there). What I love about this is you don't have to think. Each event costs 6 or 7 euro, they feed you, they direct you, they give you an authentic experience without you having to wander the streets alone trying to find it. I was so impressed.
For my trip to Cascaius I asked for a beach towel and if they had any sunscreen on hand. They gave me both, no questions asked. Each morning, breakfast is served from 8 to 11 and you can choose one of three options. (Eggs, bacon, toast; crepes; greek yogurt.) Coffee and tea are free all day every day. And lastly, each of the people who works there is a vast wealth of information. I sat down with one of them to plan out my touring of Lisbon and he told me all the good stops, including places to indulge in more pastries. There is also a great atmosphere overall, and meeting people is easy with these events and a main lounge area and breakfast room.
16 euro a night with breakfast included on the center street of Lisbon. Can't get much better then that. Can't get much better then Portugal for a first solo trip either.
P.S. You can read more about Portugal here and here!