The beginning of March 2020, I found myself in Colombia, South America. It was something that happened on purpose but felt completely by accident. Old connections and the thrill of heading to South America for the first time ever came together in a unique and beautiful way.
Every weekend while there for a month, I tried to plan an experience, whether it was traveling outside of the chaotic city of Medellin, taking a hike, or venturing to the different parts of the huge city (seriously, Medellin is big). One such weekend had me bus bound to El Peñón de Guatapé.
Never heard of it?
I hadn't either until a friend in my Spanish class mentioned The Rock, as I came to refer to it. Apparently, it is quite the tourist attraction as a must-see spot within distance from Medellin.
Three newly minted friends and I booked our hostel, met up at the bus station to purchase tickets, and we were off.
Let's first pause here a moment to focus on the bus ride. In my travels, I have found that some of the most entertaining parts of a journey lie in the business of getting there. (I refer to that time my sister and I almost died traversing the steep cliffs of the Amalfi Coast in Italy, and the time that I almost missed the last bus to the remote side village of Lake Como due to misinformation and an overwhelming lack of the language, and the time that I missed my train back to Barcelona and was instead forced to take an 8-hour overnight bus so as not to miss my job the next morning, and the time that I almost got kicked off the train on my way back from Oxford to Plymouth, of which I can only blame my stupidity and not the language barrier… you get it. A lot of good stories that come from the journey.)
My focus on the transportation system in Colombia is not for critical reasons - they have normally spaced roads, good roads, good drivers. Well, acceptable drivers. What they don't have are straight roads. There are no major highways through the countryside, no tunnels that take you through the mountain instead of over and around it. The journey to Guatapé is a long and winding one. I held onto the seat in front of me most of the journey, gazing wide-eyed out the side window as we passed open countryside, sweeping mountains in the distance, and a way of life that I had never gotten to see yet. It was my first time out of the major city, and I was transfixed by the massive amount of green and lush spread of land through the window.
Up mountains and down into valleys and through small towns we wove. An hour and a half in, there was water. Twenty minutes out, I could see The Rock poking its head around small hills to make an appearance. We had arrived.
Guatapé
I had gone to Guatapé for The Rock, but there are two other reasons that should be noted if you're not convinced on that alone. The first is the water and view from the top of The Rock. The second is the town (which I'll share more about in a second post, including information about where I stayed and ate!)
The hike to the top is just that - a hike. Over 659 steps, which doesn't sound like a lot, but it was. I took many breaks, which should be done anyways to appreciate the view. Once we reached the top, I was surprised to find an extremely touristy scene complete with three shops where you could buy beers, ice cream, and bags of chips. We grabbed a couple of cold ones and sat ourselves down at a table, looking out at the incredible view only slightly warped by the heavy clouds that hung around us.
What were we looking at, you ask? The Embalse del Penol. This lovely view is a series of lakes and islands that look alien and fantasy-like from the top of The Rock. On a clear day, the water is vividly blue, creating a breath-taking photo opportunity. Like this one. Of course, our day was anything but with low-hanging clouds and a bit of a chill. Such is our luck, though this weather did result in lesser crowds. Despite our gray weather, we spent about an hour roaming along the top, talking, and sipping on our beers to help inspire us for the hike down (my thighs were already a little shaky).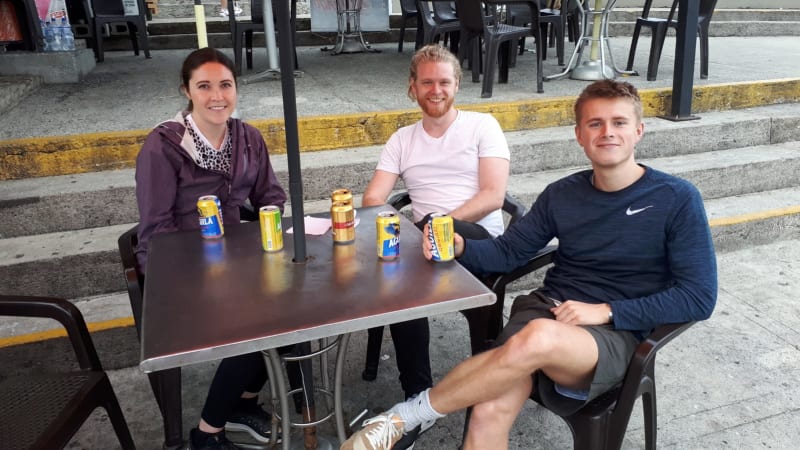 As we wandered, I kept going back to the geographic marvel I was currently standing on and the beautiful water I was staring at. The Rock itself remains due to being composed of harder sediment than what was around it. Over time, the loser sediment was pulled away, leaving behind this very tall and very large rock that is millions of years ago.
For anyone looking for a day trip outside of Medellin, Guatape is the perfect weekend getaway. Not a hiker? Guatapé offers more than just a giant rock to climb. You can read more about the town and my itinerary in my next article.
P.S. You can read more about Colombia here, here, here, and here.