Oh, the magic.
It's a common rule of life. You jump into something new feet first and it's thrilling, frightening, full of things that trip you up, and amazing sights that make you stand still. The history, the ruins, the cathedrals, the food, the culture… it all overwhelms you and sweeps you along. Every corner there is something new to see and discover. Every new street has a store or restaurant you have never been to.
New, new, new. And now, six months in, these things aren't as new anymore. Which is… well, tragic. Because while we were all busy being amazed, we also were establishing a routine. And this routine has made living in Spain normal. I know, what a horrid word. But it's true. Going to work, walking to and fro to the grocery store, avoiding dog poo on the sidewalk, and drinking a cana at 3 pm on a Saturday is now normal.
There are of course a few factors that, for me, have helped lose the magic of living here and making it just normal life.
The first is that I've been off and on with illness. Two weeks ago I had a terrible cold. This week it's a cough that doesn't let me sleep. Part of it is the children and germs, the other is just readjusting to Spanish illnesses. (Believe it or not, they differ, and while my body is very immune to American illnesses, not so much Spanish ones.)
Add to this that the weather has been pretty rainy and cold this past month, and the desire to do anything other than binge watch Netflix is hard to rally for.
Lack of travel. These past two months have been quiet and without travel. It was both something I needed for myself and also my wallet, but it's been hard not taking advantage of the free time and closeness of other countries. It has, without a doubt, contributed to the feeling of normalcy that has assisted in the loss of the magic. Also, suffice it so say, traveling anywhere from Calahorra has its challenges. It's never easy, and often frustrating. Any travel I have thus far done seems a miracle if I think about it too hard.
Looking to the future. It's inevitable not to, sadly. The truth is, this turn in the bend has forced many of our eyes to the future. What are we going to do? Are we reapplying? Are we moving back home? Even this summer is up in the air for most. (#gottabookthoseticketssoon) The stress from that bogs down on the freedom of living in Spain. Last month, I was buried deep in an emotional roller-coaster that was entirely of my own making. This month, well, I'm slightly more decided.
But now, now I'm focused on recapturing the magic. Because the next few months are going to fly by, and I want to go out with a bang.
This past weekend, my roommates and I went back to the hot springs in Arnedillo and relaxed on a perfect semi-warm day. The water was much higher this time around, and the river much colder and fast. We stayed till around sunset, which made it even more beautiful. As we sat in the water, some teenage boys jumped in and pulled hand-rolled cigarettes from their bags. Only a few minutes after they lit them, we all discovered that they were, in fact, not smoking cigarettes…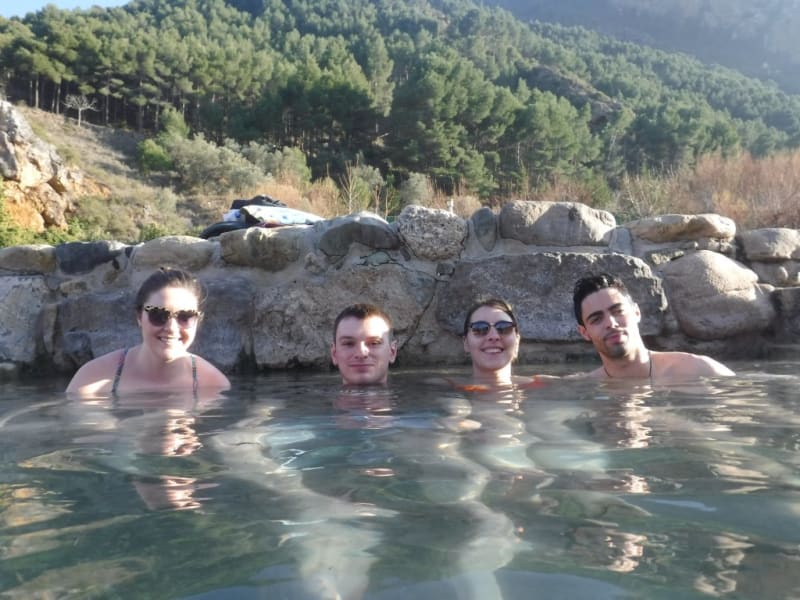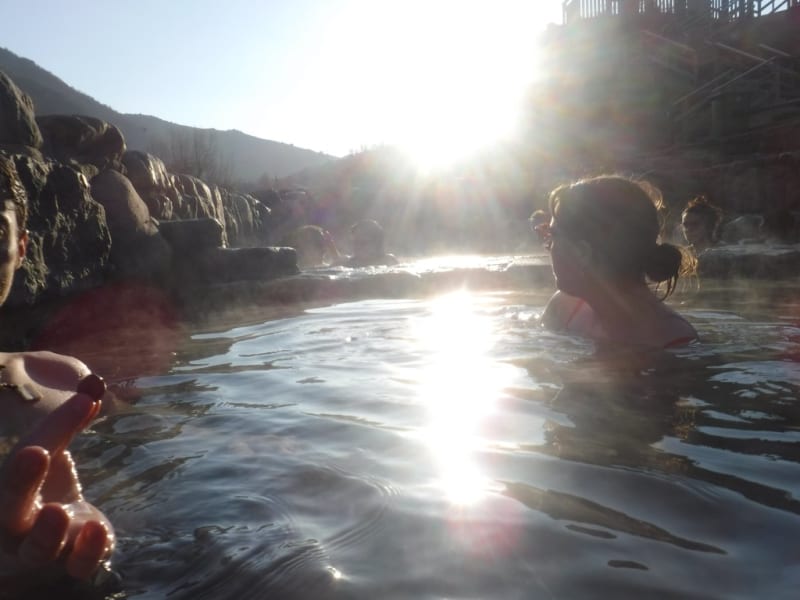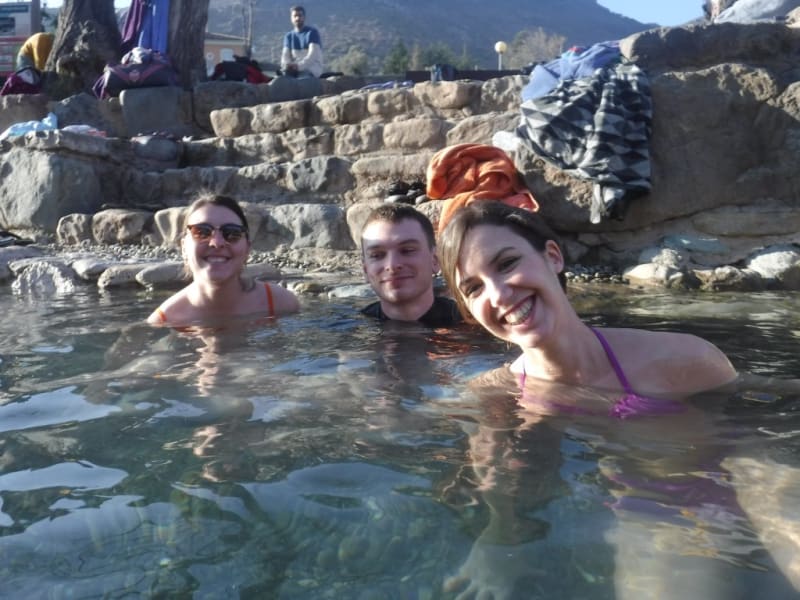 Sunday we drove outside of Calahorra in search of a mountain to hike, but sadly had to settle for a different path, as the roads were flooded. #Spain. But this mini-hike turned into discovery. We found a hillside covered in barren grape vines, amazing views, and a lake. I love stumbling across things like this. I used to love doing it in Virginia, the way you turn a corner and bam there's a lake that you didn't know existed. (Though if I had been looking at my GPS close enough I could have had a hint.)
We stood at the top of the mountain/hill overlooking the valley of mountains before us with the town of Calahorra behind us. I teetered on the edge of the cliff, standing still and taking it in because while the city I live in might be ugly, the countryside is far from it.
I love the feeling too of being small. I get it sometimes on my walks out into the countryside, but standing above it all with the sunlight on the water and a hill of pine trees beside me… I felt smaller yet. But it was a good feeling.
In all our hiking glory, we managed to bypass the path we had originally taken and determine that none of us had the techniques of wilderness survival down. Though we did manage to find the car after retracing our steps back up the mountain.
The coming weeks:
I've also been working on planning a few trips in March and April, which always gets me on a high. Twin sister and I have been finalizing our plans for Spring Break in Italy (which has me all #lemoncello)
This coming weekend is Carnival, which is kind of like Halloween for the Spaniards in February. Carnival usually draws to mind Venice and the huge masked parades and parties that go on there. Here, they dress up in costumes and go out to the clubs and bars. The streets will, so I've been told, be filled with people drinking. Much like San Mateo.
The following weekend is Calahorra Festivals, which will again result in revelry including bull fights, bull runs, the penas, pincho tastings, and parties at the clubs.
And warm weather is finally just around the corner. These last few days we have hit 60's and mid 60's.
So here we go. Mission#recapturingthemagic is in full-blown effect.